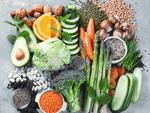 Are you looking for a fun and delicious way to incorporate more plant-based protein into your mornings?

Well, look no further!

In this article, we'll share five creative breakfast recipes that will give you the energy to start your day right and satisfy your taste buds.

The possibilities are endless when it comes to using plant-based protein powders in your breakfast.

Many delicious plant-based breakfast ideas cater to your specific taste and dietary needs. You can enjoy tantalizing smoothie bowls, fluffy pancakes, and comforting oatmeal.

Let's dive in and explore these exciting recipes!
High-Protein Smoothie Bowls to Start Your Day Right
Protein smoothie bowl recipes are all the rage, and with good reason!

They are not only visually appealing but also packed with nutrients.

Start by blending your favorite frozen fruits, such as bananas, berries, and mangoes. While blending, add a scoop of your favorite plant-based protein powder, like Growing Naturals Organic Rice Protein in Vanilla Blast. If the mixture is too thin, add some ice cubes until you reach your desired consistency.

Pour the thick, creamy mixture into a bowl. Top it with colorful toppings like granola, coconut flakes, and fresh fruit slices.

It's like enjoying a delicious ice cream sundae for breakfast but with the added benefit of plant-based protein!
Delicious Pancakes Made with Plant-Based Protein Powder
Who doesn't love pancakes for breakfast?

But instead of reaching for the traditional recipe, why not add a protein-packed twist? Pancakes made traditionally with wheat flour and eggs yield mostly carbs and sugar with little to no protein per pancake and thus leave you feeling tired and hungry after breakfast. By adding some protein to the mix, the pancakes will be more filling and nutritious.

Mix your favorite pancake batter with Growing Naturals Organic Pea Protein for an extra protein boost and fluffy texture. Pea protein happens to be an excellent egg replacer since it functions very similarly to eggs helping to bind ingredients and make a fluffy texture. This is great especially if you're avoiding eggs for vegan or allergy reasons.

Cook the pancakes on a hot griddle until they turn golden brown and fluffy. Serve them with a drizzle of maple syrup (or your choice sweetener) and a sprinkle of fresh berries.

These easy vegan pancake ideas are delicious and great for fueling your day with plant-based protein.
Vegan Breakfast Bars with Added Protein for Busy Mornings
For those busy mornings when you're on the go, grab DIY breakfast bars with protein powder.

In a bowl, combine plant-based protein powder with oats, nuts, seeds, and/or dried fruits. Add some almond butter (or your choice nut or seed butter) and a touch of maple syrup to bind everything together.

Press the mixture firmly into a baking dish and refrigerate until the mixture is firm. Cut into bars and enjoy them as a quick and nutritious breakfast or snack throughout the day.

These bars are a great option for quick plant-based breakfasts for busy mornings.

See more easy protein bar recipes here.
Nutritious Breakfast Cookies with Plant-Based Protein
Cookies for breakfast? Yes, please!

Healthy breakfast cookies with plant-based protein are a treat in the morning and they can help to satisfy your hunger while keeping you full for longer.

As a base recipe, you cancombine ingredients like rolled oats, mashed bananas, almond butter (or your choice nut or seed butter), and a scoop of your favorite plant-based protein powder in a mixing bowl. hen add your choice chopped nuts,seeds, raisins, or dark chocolate chips.

Scoop the dough onto a baking sheet and bake until golden brown. Breakfast cookies are soft, chewy, and protein-packed to energize you all morning.

See more easy breakfast cookie recipe ideas here.
Flavorful Plant-Based Protein Oatmeal Recipes to Try
Oatmeal is a classic breakfast staple, but it can be even more nutritious and filling when you add plant-based protein powder.

Cook your oats with your choice of milk or water, and then stir in a scoop of Growing Naturals Benefit Blends for added protein, fiber, energy and a flavor boost. If you're simply looking for a protein boost, try a scoop of Growing Naturals flavored rice or pea proteins instead.

Customize your oatmeal by adding toppings like sliced bananas, chopped nuts, and a drizzle of honey or maple syrup. Keep in mind that flavored proteins already include sweeteners so you may not need to add any additional.

See more protein-powered oatmeal recipes here.
Fuel Your Day the Ethical Way: Elevate Your Breakfast with Plant-Based Protein Powders
Breakfast is the perfect way to start your day with the goodness of plant-based protein powders.

Not only are they a convenient and easy way to boost the protein content of your breakfast meals, but they also offer many benefits for conscious consumers.

Plant-based protein powders, such as those derived from peas, rice, and hemp, provide an ethical and environmentally sustainable alternative to animal-based protein sources.

By incorporating Growing Naturals' plant-based protein powder into your breakfast routine, you can enjoy a variety of creative and delicious recipes that cater to your taste preferences and dietary needs.

Whether you opt for a refreshing smoothie bowl or fluffy pancakes, these recipes will give you the energy to conquer the day ahead.

So why settle for a mundane breakfast when you can make it creative, delicious, and packed with plant-based protein?

These five inspiring recipes let you explore the wonderful world of plant-based protein powders.