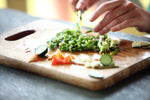 Meal Prepping Gives you More Time for Summer Fun
The summer months bring a new energy to the days with the sunshine out and warmer temps! It can also be a great time to establish some great nutritional patterns for yourself so you can feel at your very best this summer and beyond. I am all about long term solutions to staying on a healthy course with eating, and with that always comes planning, and executing that plan consistently. The plan I'm talking about here is meal planning.
Why meal plan?
Saves money - who can afford to eat out all the time? Not me.
Foods prepared at home contain less sodium, added oils, sugars and processed ingredients than restaurant foods
A sense of accomplishment and creativity in making your food at home
You are not tempted to make a bad eating decision if you have your snacks and meals pre-made and ready to eat -takes the stress out of, "what's for lunch or dinner?"
Meal planning tips, tricks and hacks:
Try to get as much as you can at farmers' markets - buying in season and local can save money and support small farms
Plan to use what you buy! Do not waste food; this is when food becomes "expensive".
Use your grill in the summer to prep large batches of grilled vegetables, fruit etc.
Invest in good refrigerator storage containers and divide up your meals so you can grab and go! Also buy a nice cooler bag to take to work or summer parties and picnics. I am always traveling with my mini cooler packed with meals and snacks.
Buy in bulk as often as possible. I use Amazon quite a bit for things like chia seeds, cacao nibs and grains. These things can all be bought in larger sizes and you can save some money or split it with a friend.
Plan a food prep day with a friend and share meals for the week together. Each person picks 1-2 entrees and then you each get a few servings so you get some variety as well as some good kitchen time together. Turn on some music or a good podcast!
Make a double batch of something you can freeze and use later in a week that is really busy for you.
Clean the kitchen as you are prepping so you are not left with a huge mess.
Utilize online resources like Pinterest and GNrecipes.com to keep your healthy meals and snacks varied. Variety rocks!
Vacation meal planning:
Even when you're away from home on summer vacation you still want to fuel your body with the very best!
Rent a house or a hotel room with a kitchen - this is a tremendous help! We do this when possible, and if we're with friends or family, they get in on the cooking fun too.
Travel with protein packets and a shaker bottle. These are life savers on the go! I always have a stash for traveling.
Bring a blender if you can! I have used my blender in a hotel room on more than one occasion!
Seek out grocery stores and health food stores at your travel destination before your trip, and visit upon arrival to stock up on fresh foods.
Taking control of your food choices long term is perhaps the most important yet overlooked area of fitness. Everyone wants a quick fix now but what's really going to make the biggest impact on your overall health is what you put in your amazing body on a weekly, monthly, yearly basis. Big changes start with small steps each day! Prep on strong people!!! As for me, soup is always a favorite make-ahead meal. 
By: Kelly Itsell, Certified Personal Trainer