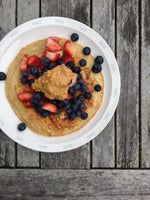 Growing Guru & Yogi, Kathleen Uhran of Acktivelife.com shares a favorite recipe and her experience at the Nantucket Yoga Festival:
When I go on vacation, there are definitely some foods that I take with me, to make sure that I do not completely fall off the wagon. Don't worry I do treat myself to sweets, adult beverages, and lots of other good stuff, but breakfast is usually the meal that I like to kick off my day on the right foot with. Growing Naturals Vanilla Blast Pea Protein came with me on my last vacation to Nantucket for the

Yoga Festival

and is always a great way to fuel my morning, especially after a workout. Besides all the nutritional value that Growing Naturals packs in a scoop, it is also easy to pack, does not take up too much room, and has multiple recipes that I can whip up in just a few minutes.
As y'all know Pea Protein Pancakes are a favorite of mine and seem to have multiple times a week – they really help power me through my yoga sessions. Even on vacation, they're my "go to" breakfast. Thankfully my mom had all of the other ingredients in the kitchen, so this simple, easy, and healthy recipe was bound to happen. Ready in less than 15 minutes and you can top with whatever ingredients you have on hand, but this is what worked for me and tasted absolutely delicious. It kept me full for a little over 3 hours, before I dug into my next meal.
I hope that y'all will give it a try. Please let me know if you have any questions and ENJOY!
Ingredients:
1 Whole Egg + 1 Egg White
1 tsp of Baking Powder
Splash of Water
Serving of Blueberries + Strawberries
Spoonful of Nut Butter
Directions:
Mix the first 4 ingredients together in a bowl
Heat a skillet on high
Place batter in the skillet and flip when necessary (usually 3 minutes + 1 minute on the other side)
Top with fruit and nut butter!