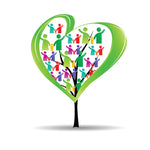 At Growing Naturals we truly recognize the importance of having gluten free products, not only for those with Celiac Disease but for those with gluten sensitivities, multiple food allergies, or those who simply choose not to consume gluten and who rely on our products for nourishment. Growing Naturals uses naturally gluten-free ingredients and strives to achieve lab-verified, gluten-free products.
What is considered "gluten-free"?
As of August 2013, the Food and Drug Administration (FDA) set the standard to define the gluten content on food products labeled as "gluten-free." Any product labeled gluten-free must contain less than 20 parts per million (ppm) gluten.
What are Growing Naturals gluten-free testing levels?
Every single batch of Growing Naturals protein powders are tested for gluten content. Abiding by the FDA's ruling, Growing Naturals products labeled as "gluten-free" will have tested below 20ppm. Majority of the time our products test well below this limit at levels between 5 and 10ppm.
How does Growing Naturals test for gluten?
For Rice and Pea proteins gluten is detected using the Gluten RIDASCREEN Competitive method R7021 and Gluten RIDASCREEN Gliadin method R7001.
Are Growing Naturals' products gluten-free certified?
Several organizations offer a gluten-free certification to verify that products are at a specific level of gluten. For example, the National Foundation for Celiac Awareness (NFCA) requires that products test
below 20ppm
in order to bear the organization's certified
seal
. The Gluten Intolerance Group (GIG) requires that a product test
below 10ppm
in order to bear their certified
seal
. Some batches of Growing Naturals product bear a gluten-free certified seal (NFCA or GIG); while others just state that they are 'gluten-free'. Certifications take time to apply. And while we would like to have all of our products that test below 20ppm certified, occasional time constraints between production periods do not allow for us to complete a certification. However, just because it is not certified does not mean that it is not truly gluten free. A product labeled as "gluten-free" will still have tested below 20ppm even without certification.
What level of gluten is in my gluten-free canister?
Customers can email our in-house Registered Dietitian (RD) at scarlett@growingnaturals.com with the lot number on the canister they have to find out whether the canister is <20, <10 or <5ppm gluten.
If I order product from your website, how can I be guaranteed to receive gluten-free product?
If you would like to ensure that you receive a gluten-free product testing as low below 20ppm as possible please email our RD
scarlett@growingnaturals.com
AFTER you have placed your order, so that she can arrange that for you. Please provide your order number and full name.