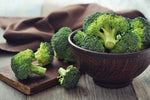 Is Eating Organic Better for Your Health?
Eating organic has become increasingly popular over the years, but is there any health benefit to spending more money on our fruits and vegetables? What if you just can't afford it? It is
estimated
that the organic food industry has grown over years, increasing by about 10 billion dollars, showing us that people care about buying and eating organic foods.
What does the term "organic" really mean?
When we read a food label, and it says that the food is "100% organic" or "made with organic ingredients" what does that tell us about the food? Is it worth it to pay up to 40% more for a food and/or food product because it is organic? Back in 2000, the United States Department of Agriculture (USDA) began regulating the labeling of processed, fresh and raw organic foods (1). The term
"organic" means
that the food cannot be cultivated on land that has been exposed to
synthetic
pesticides, herbicides or fertilizer for 3 years prior to the foods' harvest.
Organic pesticides
however, CAN be used. In addition, these crops cannot be exposed to genetic engineering or modification (GM). (So this means organic foods are always non-GMO, but a non-GMO food is not always organic). The farm and the crops also cannot be exposed to ionizing radiation or sewage sludge (treated industrial or city wastewater). However, there are different levels of how "organic" a food can be (1).
100% organic means - all parts of the food are 100% organic (not including water and salt)
Made with organic ingredients means - the food contains 70% organic ingredients
Natural means – the food that has been minimally processed to not alter the raw product; is free of artificial ingredients or added color
Organic products from an animal (meat, egg, milk) – for at least 12 months, the animals are fed 100% organic feed (3)
So the first question becomes, does organic food have more nutrition than food that is not organic?
Organic vs. Non-Organic Produce
Unfortunately, the studies that have been done aren't enough to say so since their results have been mixed and mainly on produce (4, 5). But this doesn't necessarily mean that it
isn't
beneficial to eat organic foods, especially if they are fresh fruits and vegetables. As far as vitamin and mineral content, organic produce such as lettuce, spinach and chard were shown to have more vitamin C in 58% of studies when compared to the non-organic version. However, in 2009 another study found that organic carrots and potatoes had lower vitamin C content than their non-organic versions (6). Organic produce has also been shown to have higher amounts of phenols (a type of antioxidant) when compared to non-organic produce (7). In addition,, organic produce has been shown in many studies to contain less nitrates and pesticides. We aren't sure of the long-term benefit of this yet, but we do know that pesticides, herbicides and other synthetic chemicals used in non-organic farming is associated with many negative health conditions (8, 9, 10, 11). So although there are many studies that have looked at the nutrition of organic produce vs. non-organic produce, the way they've been compared hasn't been done very well. Many things can effect the nutrition of produce, including the climate where the food is grown, the location of the farm, the condition or content of the soil, how old the produce is that is tested and how long the produce travels from harvest to the testing center. We also don't know if the increase in these nutrients makes a significant difference in the health of those people who eat these foods on a regular basis. Basically there just are not enough well-done studies looking at all types of fruits and vegetables that are harvested or picked at the same time, from the same farm, in the same conditions to compare the organic version to the non-organic version.
Organic vs. Non-Organic Livestock
Studies on the health effects of eating organic livestock are practically non-existent. However, one benefit of eating organic livestock includes limiting our exposure to the antibiotics used on livestock. It is estimated that less than 25% of the antibiotic use in animals is needed; the rest is used to increase the growth of the animal and/or to increase how much they produce (i.e.: milk). Much like in humans, when an animal is given antibiotics over and over, the germs within the intestine can become resistant (meaning they are no longer killed) to the antibiotic. These germs can be transferred to the people who take care of and live near these animals. Here in the USA, organic foods and foods from animals aren't allowed to be exposed to antibiotic use. This decrease in unnecessary antibiotic use can help to reduce the amount of human diseases that can be from germs that are resistant to antibiotics (12, 13, 14).
The Choice is Yours
But if you like many Americans choose to buy organic foods, there is a way to spend your money wisely in order to reduce exposure to chemicals. The Environmental Working Group (EWG), a non-profit organization whose mission is to empower people to lead healthier lives, puts out a yearly list called "the dirty dozen". The EWG advises that if you want to buy organic fruits and vegetables, but are on a budget, these 12 foods are the ones you should try to buy organic in order to avoid consuming pesticide residue. This year their list of the
"Top 12 foods containing the most pesticides"
consisted of:
Apples 5. Peaches 9. Nectarines
Strawberries 6. Grapes 10. Celery
Spinach 7. Sweet bell peppers 11. Cucumbers
Cherry tomatoes 8. Imported snap peas 12. Potatoes
The EWG also releases their
"Clean 15"
list, which lists the top 15 foods with the least amount of pesticide for the year. This year, the list includes:
Avocados 7. Sweet Potatoes 13. Papayas
Sweet Corn 8. Cauliflower 14. Mangoes
Pineapples 9. Cantaloupe 15. Asparagus
Cabbage 10. Grapefruit
Frozen sweet peas 11. Eggplant
Onions 12. Kiwis
Bottom Line…
As of 2012, a report put out by the American Academy of Pediatrics stated there is just not enough scientific proof to recommend that for nutrition reasons, we should be eating organic foods over non-organic foods. However, their report also stated that when you eat an organic diet, you are exposed to less pesticide residue although we are still unaware of how this affects our health in the long run (14). More long-term research on the health effects of eating organic foods is needed. The benefits of adding MORE fruits and vegetables to your diet (organic or not) outweighs any negative from eating non-organic produce. And when consuming organic livestock you may be reducing your exposure to antibiotics. However, the choice is yours, and if you choose to buy organic produce, by sticking to the "dirty dozen" you may not only be helping the inside of your body but you will also be helping the inside of your wallet.
By:
Vanessa Carr, MS, RDN, LDN
Licensed & Registered Dietitian/Nutritionist
References:
EWG's 2015 Shopper's Guide to Pesticides in Produce ™. (n.d.). Retrieved July 6, 2015.
Winter CK. Davis SF. Organic foods. J Food Sci. 2006;71: R117-24.
Willams CM. Nutritional quality of organic food: shades of grey or shades of green? Proc Nutr Soc. 2002; 61(1):19-24.
Batra P. Sharma N. Fupta P. Organic foods for children: health or hype? Indian Pediatrics. 2014; 51:349-353.
Hoefkens, C. Vandekinderen. I., De Meulenaer, B., Devileghere, F., Baert, K., Sioen, I., De Henauw, S., Verbeke, W., Van Camp, J. A literature-based comparison of nutrient and contaminant contents between organic and conventional vegetables and potato. Br. Food J. 2009;111: 1078-1097.
Asami DK. Hong YJ. Barrett DM, Mitchell AE. Comparison of the total phenolic and ascorbic acid content of freeze-dried and air-dried marionberry, strawberry, and corn grown using conventional, organic and sustainable agricultural practices. J Agric Food Chem. 2003;51(5):1237-1241.
Blair A. Freeman L. Epidemiologic studies of cancer in agricultural populations: observations and future directions. J Agromed. 2009; 14(2):125-131.
Daniels JL, Olshan AF, Savitz DA. Pesticides and childhood cancers. Environ Health Perspect. 1997;105(10): 1068-1077.
Kamel F, Tanner CM, Umbach DM, et al. Pesticide exposure and self-reported Parkinson's disease in the agricultural health study. Am J Epidemiol. 2007;165(4):364-374.
Engel LS, O'Meara ES, Schwartz SM. Maternal occupation in agriculture and risk of limb defects in Washington State. 2980-1993. Scan J Work Environ Health. 2000;26(3):193-198.
Shea KM; American Academy of Pediatrics Committee on Environmental Health ; American Academy of Pediatrics Committee on Infectious Diseases. Nontherapeutic use of antimicrobial agents in animal agriculture: implications for pediatrics. Pediatrics. 2004;114(3):862-868.
Levy SM, FitzGerald GB, Macone AB. Changes in intestinal flora of farm personnel after introduction of a tetracycline-supplemented feed on a farm. N Engl J Med. 1976; 295(11);583-588.
Hamer DH. Gill CJ. From the farm to the kitchen table: the negative impact of antimicrobial use in animals on humans. Nutr Rev. 2002;60(8):261-264.
Forman J. Silverstein J. Organic foods: health and environmental advantages and disadvantages. 2012; 130:e1406-e1415