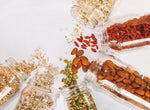 The protein content of foods varies from source to source (as you'll see in the list below). Generally, animal sources (like meat, poultry and fish) tend to have higher protein per gram of weight when compared to whole plant foods (legumes, nuts, seeds, whole grains, etc.), but plant foods (while not providing as much protein) are rich in beneficial nutrients like fiber, antioxidant and anti-inflammatory compounds, vitamins, minerals and complex-carbohydrates.
How do you know if you're getting all the protein you need on a daily basis?
Though you can certainly get all your protein from plant foods,  you typically need to eat a higher volume of plant foods to reach your daily protein goal. Once you know approximately how many grams of protein you need each day, the next step is to figure out how to hit that target (or above!*).  *(Some research has indicated that older age groups and those who are trying to lose weight might benefit by consuming more protein than is required).
Below are some common plant and animal foods with the grams of protein found in a typical serving size. You'll also see the total calories in each serving, which gives you some perspective on which foods contain the most protein with least calories, and which contain the least protein with the most calories.
Add up the amounts for the foods you consume on a typical day and see if you meet your protein requirement. If a food you eat is not on the list, you can look it up on this USDA database. While it won't be perfect science, an estimate of what you consume is just as good. If you're not meeting your daily protein recommendation from whole food sources (especially if you are vegan or vegetarian), you may consider supplementing with Growing Naturals plant protein powders.
Approximate Protein Content of Common Foods
| | | |
| --- | --- | --- |
| Food Item, serving size | Protein (grams) | Calories |
| Plant Sources | | |
| Alfalfa, sprouted, raw, ½ cup | 0.6 | 4 |
| Almonds, 10 count | 2.5 | 70 |
| Black beans, boiled, ½ cup | 7.5 | 114 |
| Bread, whole wheat, 1 slice | 6-8 | 60-120 |
| Brown rice, cooked, ½ cup | 2 | 109 |
| Cashews, raw, ¼ cup | 5 | 157 |
| Chickpeas, plain, boiled, ½ cup | 7 | 134 |
| Couscous, cooked, ½ cup | 3 | 88 |
| Edemame, cooked, ½ cup | 11 | 127 |
| GN Pea Protein, all flavors, 1 scoop | 15 | 70-90 |
| GN Rice Protein, all flavors, 1 scoop | 24 | 100-120 |
| Hazelnut, 10 count | 2 | 88 |
| Hummus, 2 tbsp. | 2.5 | 50 |
| Kidney beans, boiled, ½ cup | 7.5 | 112 |
| Lentils, boiled, ½ cup | 9 | 115 |
| Millet, puffed, ¼ cup | 0.7 | 20 |
| Mung beans, sprouted, raw, ½ cup | 1.5 | 16 |
| Oats, cooked with water, 1 cup | 6 | 166 |
| Pasta, cooked, 4 oz. | 6 | 150 |
| Peanuts, dry roasted, ¼ cup | 8.5 | 214 |
| Peanuts, raw, ¼ cup | 9 | 207 |
| Pecans, 9 halves | 2.5 | 196 |
| Pistachios, 10 count | 1.5 | 40 |
| Pumpkin seeds, roasted, 2 tbsp. | 4.5 | 85 |
| Quinoa, cooked, | 4 | 111 |
| Sesame seeds, toasted, 2 tbsp. | 2.5 | 91 |
| Soymilk, fortified, 1 cup | 6 | 104 |
| Sunflower seeds, dry roasted, 2 tbsp. | 3 | 93 |
| Sweet potato, mashed, ½ cup | 2 | 125 |
| Tofu, raw, firm, ½ cup | 20 | 183 |
| Tortilla, corn, 1 medium (6" diameter) | 1.5 | 60 |
| Tortilla, whole wheat, 1 large | 4 | 127 |
| Walnuts, 14 halves | 4 | 185 |
| Animal Sources | | |
| Egg, large, 1 | 7 | 70 |
| Milk, plain, 1 cup | 8 | 90-120 |
| Yogurt, plain, low fat, 1 cup | 13 | 154 |
| Yogurt, Greek, plain, non-fat, 1 cup | 17 | 100 |
| Ham, cured, 4 oz. | 20 | 151 |
| Beef, flank steak, broiled, 4 oz. | 32 | 220 |
| Chicken breast, no skin, grilled, 4 oz. | 35 | 171 |
| Turkey, no skin, roasted, 4 oz. | 33 | 180 |
| Pork loin, lean, roasted, 4 oz. | 31 | 196 |
| Cheese, cheddar, 1 oz. slice | 7 | 113 |
| Cheese, feta, crumbled, 2 tbsp. | 2.5 | 50 |
| Cheese, cottage, 1% fat, ½ cup | 14 | 81 |
| Cheese, mozzarella, part skim, 1 oz. slice | 7 | 72 |
| Salmon, cooked, 4 oz. | 31 | 209 |
| Tilapia, cooked, 1 fillet | 23 | 111 |
| Tuna, canned in water, 4 oz. | 27 | 145 |