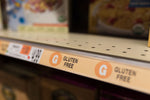 Gluten-Free. Without Gluten. Certified Gluten-Free. These are just a few of the labels you might run across when looking for gluten-free foods in the grocery store. For those with celiac disease or gluten intolerance, knowing whether a product is truly gluten-free is medically necessary. But with so many different claims and labels, this can be downright confusing. Here are some of the most common gluten-free claims on product labels and what they really mean:
Gluten-Free
The growing popularity of gluten-free as a fad diet meant many companies were jumping on the gluten-free bandwagon. Until recently, there were no guidelines to determine what "gluten-free" actually entailed. As a result, approximately
5 percent
of foods labeled "gluten-free" contained levels of gluten that were harmful to people with celiac. In 2013, the FDA released
guidelines
and definitions regarding gluten-free food labeling and gave companies one year to comply with the rule. Foods can only be labeled gluten-free if they contain 20 ppm (parts per million) gluten or less. This amount is the equivalent to 1/8 teaspoon of flour or 18 slices of gluten-free bread. The FDA chose this number because it is the smallest amount that can accurately be measured and because this level of gluten has been shown to be safe to most people with celiac. FDA-regulated foods can only be labeled gluten-free, free of gluten, no gluten, and without gluten if the food meets one of the following conditions:
It does not contain wheat, rye, barley or crossbred hybrids like triticale
It contains a gluten-containing grain or ingredient derived from a gluten-containing grain that has been processed to less than 20 ppm of gluten
All products had to be labeled correctly based on new guidelines by August 4, 2014. Following this deadline, several studies found that 98.9 percent of the randomly-chosen products labeled "gluten-free" complied with the new regulations. The amount of gluten in a food is not included on the nutrition label, but you can find out what the exact testing levels are by reaching out to the manufacturer of the product and requesting test results.
Naturally Gluten-Free
Many foods—including fruits and vegetables, meat and seafood, dairy, and legumes—are naturally gluten-free. The same can be said about most beverages (except for beers, ales, lagers, and other alcoholic beverages that contain grains). While naturally gluten-free foods are inherently gluten-free, they can still come in contact with gluten. This is known as cross-contamination. It occurs just about anywhere, from the fields where the food is grown to the facilities they are packaged to your kitchen's prep areas. Just because a food is naturally gluten-free, however, doesn't mean it's automatically safe for people with celiac or gluten intolerance. Several small studies have explored whether or not naturally gluten-free foods contain contamination from other sources. One found gluten levels that exceeded the FDA guidelines in 31 percent of foods tested, while another group of foods tested over as high as 41 percent. While these studies are small, they do show that cross-contamination occurs. If you have celiac disease or gluten intolerance, you can contact the manufacturer to find out if products have been tested to ensure they are in line with FDA guidelines.
Certified Gluten-Free
FDA guidelines do not require a product to be tested in order to claim they are Gluten-Free. In order to gain a competitive edge in the market and provide increased confidence to their customers, many companies seek certification or testing from third parties to ensure their products are compliant. Some of the more popular third-party certification organizations include:
The Gluten-Free Certification Organization. An arm of the Gluten Intolerance Group, test and labels products "Certified Gluten-Free." This group, which operates independent of the FDA, tests the ingredients and manufacturing facilities of a product to ensure all products have 10 ppm or less of gluten.
The Gluten-Free Certification Program. This program uses an auditing process to ensure products fall within FDA standards of 20 ppm.
NSF Certification. NSF International, the National Sanitation Foundation, also certifies products. Companies must have a gluten-free compliance plan in place and undergo site inspections and onsite audits for product testing to ensure they are 20 ppm or less.
The cost for third-party certifications vary depending on the number of products and facilities seeking certification, as well as the level of risk a company has. The Gluten-Free Certification Organization, for example, charges an audit fee of $500 for each plant inspection, the inspector's travel expenses, and a certification fee. They must also pay an annual certification fee, which can range from $3,000 to $10,000 per year. Large companies that sell millions of dollars of product a year can justify this cost, but few smaller companies can afford the high cost of certification. However, this does not mean that you should avoid the product entirely. Contacting the manufacturer can help you determine whether gluten levels are safe. Managing celiac disease or gluten intolerance can be confusing. Learning more about the various gluten-free labels can help you make more informed choices as you navigate the aisles at the grocery store. Learn more about Growing Naturals "Gluten-Free Promise" and testing levels here.
Written By: Jill Overmyer
Edited By: Scarlett Full, in-house Registered Dietitian