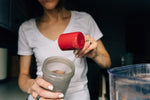 Your body can suffer serious consequences when you don't consume enough protein. In the long run, a protein deficiency can lead to things like a weakened immune system, loss of muscle and poor growth of hair and nails (to name a few). 
The fact of the matter is that Americans rarely under-consume protein especially if they are meat eaters. Protein-rich sources (mainly from animals) are easy to come by if you don't have any dietary restrictions. But what happens when you do have dietary restrictions? Or what if you just want to eat more plant-based foods? Should you supplement with concentrated protein powders?
Vegans and vegetarians are definitely more likely to under consume protein on a daily basis than non-vegetarians. There are plenty of plant-based whole foods with protein in them, but the protein is not as concentrated as in a piece of beef or poultry. Additionally, protein from whole food plant sources is less digestible, so your body absorbs less than what is consumed. As such, it can become a difficult task to meet your protein needs without going over your energy (calorie) needs.
For example, a 5 oz. chicken breast can provide 35 grams of protein on average, with little to no carbohydrates (carbs) and low fat. In other words, most of the chicken is considered dietary protein and most of the calories are coming from the protein alone. On the other hand, a cup of lentils will provide approximately 18 grams of protein (about 16g which will be absorbed), but it will also provide about 38 grams of carbs. The lentils are not as rich in protein as a piece of animal protein.  You would have to consume 2 cups of lentils (with close to 3 times the calories) to get similar amounts of protein to the piece of chicken.
You should aim to get all your protein from whole foods first and supplements second.
It is entirely possible to consume your day's protein needs with plant-based foods alone without the use of protein supplements. In fact, you should aim to get all your protein from whole foods first and supplements second (whether plant-based or not). Lentils, legumes, whole grains, seeds, nuts and meat substitutes are common vegan sources of protein.
The advantage of whole foods is that they typically offer a "total package" of nutrients—whereas supplements typically (not always) offer a single nutrient.  Nutrients are typically better absorbed in the presence of others, rather than on their own. For example, the iron in broccoli is better absorbed (than iron from a supplement) because broccoli also contains vitamin C–which aids in iron absorption.  (For examples of whole food, plant-based protein sources, see below).
Benefits of Protein Powders
Although it is very well possible for vegans and vegetarians to meet their protein requirements on a whole-food, plant-based diet–it requires careful planning, variety, and sometimes large volumes of food which may be challenging to accomplish. Dietary protein supplements offer a convenient and alternate means of getting the protein you need on daily basis.
Plant Protein Powders
Being typically low in carbs and fat, plant protein powder supplements like Growing Naturals powders can be advantageous for those who are trying to meet their protein needs without going over on calories. This could be someone on a low-calorie diet trying to lose weight or an older adult who doesn't require many calories on a daily basis.
Supplements can also help those with high protein needs who want to build lean muscle such as athletes who find it difficult to consume the amount or volume of food needed to reach such high protein levels.
For people with sensitive stomachs or many food allergies, (rice protein especially) becomes a viable and convenient source of protein. Many plant-based proteins offer clean ingredient labels, with mostly allergen-friendly wholesome ingredients.
Protein supplements are easy to prepare and consume, but they should not be used as sole source of nutrition—on the basis that they provide limited number of nutrients. Nonetheless, concentrated protein powders can certainly be used as part of a balanced, healthy diet.
Whole food, Vegan Dietary Protein Sources
| | | | | |
| --- | --- | --- | --- | --- |
| Food (serving size) | Protein (grams) | Carbs (grams) | Fat (grams) | Total Calories |
| Oats, cooked w/ water (1 cup) | 6g | 28g | 0.7g | 166 |
| Lentils, cooked/boiled (1 cup) | 18g | 40g | 0.7g | 230 |
| Black beans, cooked/boiled (1 cup) | 15g | 41g | 0.9g | 227 |
| Peanuts, raw (1/4 cup) | 9g | 6g | 18g | 207 |
| Chickpeas, cooked/boiled (1 cup) | 14.5g | 45g | 4g | 269 |
| Hummus, store-bought (1/4 cup) | 5g | 9g | 6g | 102 |
| Soy Tofu, firm (1 cup) | 21g | 4g | 10.5g | 176 |
| Quinoa, cooked (1 cup) | 8g | 40g | 3.5g | 222 |
| Sunflower seeds, dried (1/4 cups) | 7g | 7g | 18g | 204 |
| Sweet Potato, cooked/mashed (1 cup) | 4g | 58g | 0.5g | 249 |
| Mung Beans, sprouted (1/2 cup) | 1.6g | 3g | 0.1g | 16 |
| Edemame/Soybeans, cooked (1/2 cup) | 11g | 10g | 6g | 127 |
| Brown rice, cooked (1 cup) | 5g | 45g | 1.7g | 216 |
*Based on USDA Nutrient Database, 2011
By: Scarlett Full, in house Registered Dietitian