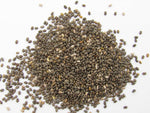 Don't Eat Eggs? You are not alone. Due to the rapid growth of people adopting a plant-based or vegan lifestyle, many more egg-substitutes are popping up on store shelves and recipe blogs alike. Check out this quick informative guide for the best egg-less egg replacements to use in any baking recipe especially those powered by Growing Naturals.
1. Store Bought Options
Try these gluten-free, allergen-friendly and tasteless alternatives. These store bought egg substitutes are made mainly with potato starch and are a great buy when you are in a cooking crunch!
2. Make your Own
Satisfy the DYIer in you with this simple recipe for a DIY powdered egg replacer just like the ones you would buy in the store. This recipe makes 50 egg substitutes that can be stored in the refrigerator until they are needed. You can make one batch of this and be good for a baking party!
3. Fruit
Fruit is nature's candy. This all-natural alternative will spruce up any recipe and leave your lucky consumers wanting more, in a healthy way. Use 1/4 cup of fruits like bananas or applesauce to replace 1 egg. This trade secret is used mostly for fudgy brownies like these and moist cakes.
4. Tofu
Tofu is high in protein and provides a silky-smooth texture for all of your baking desires. Use about 1/4 cup of tofu per egg for moist cakes, breads, cookies, brownies and even pies like this one.
5. Flax Seeds or Chia Seeds
Flax and chia seeds are a great source of Omega-3 fatty acids. These are an essential nutrient for brain health and physical energy. Here is a step-by-step tutorial of how to make a flax or chia egg. Use this for anything from cupcakes to doughnut holes, YUM.
6. Baking Soda & Vinegar
An old folk remedy for various ailments, who would've thought this would also work wonders for the air-like consistency of light cakes, meringues, cupcakes and even some cookies. Use 1 teaspoon of baking soda + 1 tablespoon of vinegar to replace 1 egg
7. Pea Protein
Growing Naturals pea protein makes for a great 1:1 egg replacer in terms of function in a baked recipe, where 1 unpacked scoop would approximately count for 2 eggs. Depending on the flour used, water should be added as needed to get the appropriate batter/dough viscosity. The GN rice protein does not provide these functions, but could still be added as a source of protein into the baked good :) Need inspiration? Check out these delicious Cinnamon Crunch Protein Muffins.
Written By: Sarah Roberts
Reviewed and Edited By: Scarlett Full, in-house Registered Dietitian