Project Description
1 large ripe banana, mashed
2 T Xylitol (or other sweetener)
1/4 C plain Greek yogurt
2 egg whites (6 T)
3 T unsweetened almond milk
1/4 C nut butter (I used Onnit Cashew Walnut Butter)
1 tsp vanilla extract
1 T melted coconut oil
1/4 flour (I used spelt)
1/2 tsp ground cinnamon
1 tsp baking powder
1/4 C chocolate (or carob) chips
  In a large bowl, add banana, sugar, yogurt, egg whites, milk, nut butter, vanilla, and coconut oil in a bowl and whisk together until combined.
In a medium bowl, whisk together the dry ingredients in a separate bowl.
Add the dry to wet ingredients and stir together until just combined.
Fold in chocolate chips.
Pour batter into greased muffin tins.  Bake at 350 for 120-25 minutes, or until toothpick come out clean.
Makes 10 muffins.
Approximately (per muffin): 8.6g protein/ 3g sugar/ 12g carb/ 5.8g fat/ 2.2g fiber/ 131 calories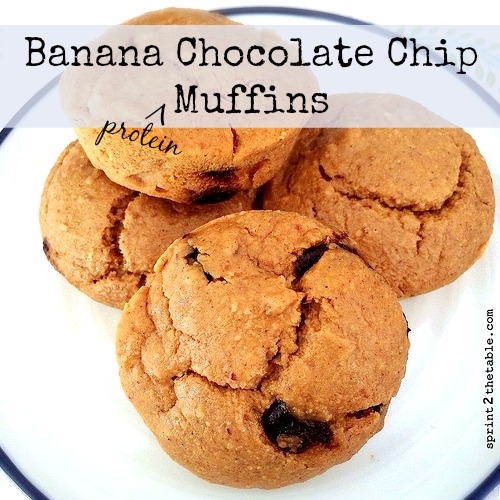 Recipe By: Laura Hall of sprint2thetable.com